As a manufacturer have you ever personally noticed your product on the market shelf?
What is its first impression on your mind? We believe it is appealing enough to grab your attention for at least a few seconds. It must look distinct and alluring enough to attract customers.  
Well, if this is not the case, then it's time to revamp your packaging – especially if it is a generic folding carton. We also know like most manufacturers you are reluctant to invest in new packaging because you have a false notion that it is an expense. In this blog, we will clear this misconception and give you 5 promising reasons- backed by thorough market research to let you see the bigger picture and go for Holostik's 3d folding carton to maximize your profits.
Now let's dig in…
1. Around 52% of online buyers repurchase from brands if they receive products in premium packaging – Market Reports
Premium packaging is here to stay for long, this is what most market reports suggest. In today's omnichannel market buyers are highly conscious of the choices they make. They want to have holistic, interactive, and friendly buying experiences. Why would they ever buy products with dull, flimsy, and bland packaging? Folding cartons with 3d lens effects, vivid colours, and choicest typography work like magnets to attract your customers. The idea behind 3D folding cartons is to increase product repurchase and catch the attention of the new customers on the market shelf.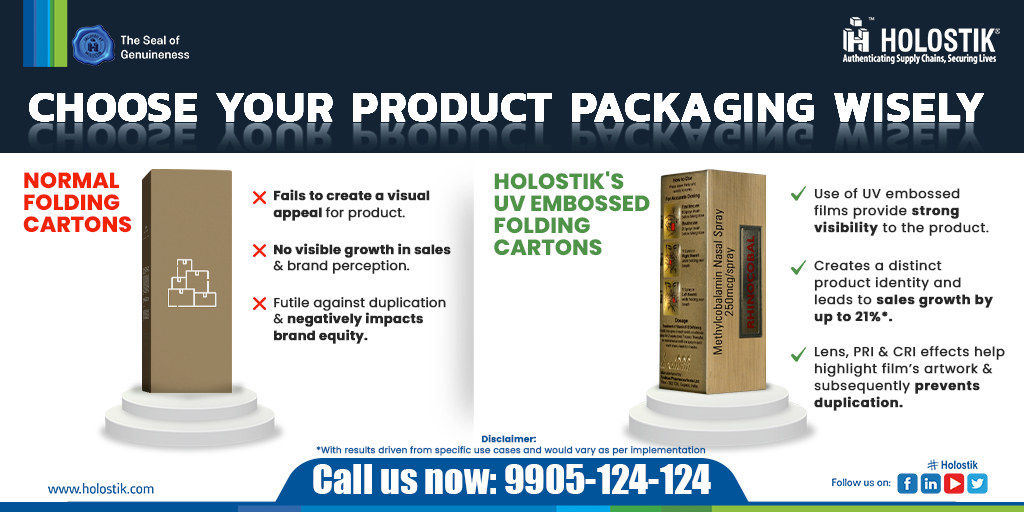 2. Fortify product security when duplication, tampering, and adulteration are record high
Rs 1 lakh crore! This is the unimaginable amount of loss to the Indian economy due to fake products. For counterfeiters, it is quite easy to replicate your poorly packaged products. First, they will monitor your packaging, look for loopholes, copy the product and packaging and finally infiltrate your supply chain with counterfeits. All this while you won't have the faintest idea that a criminal is sneaking into your profits. Laminated with UV embossed films with sophisticated optical effects, 3D folding cartons cannot be replicated. This guarantees the safety of your products from any unwanted handling.
3. Ensuring supply chain stakeholders validate your product at multiple touchpoints
We at Holostik can integrate physical packaging and digital supply chain solutions under one roof. This can save your time and money as you don't have to seek services from multiple packaging and digital vendors. Our one-stop solutions enable the printing of barcodes and the implementation of custom supply chain software. Our 3D folding cartons printed with barcodes help implement real-time product authentication throughout the supply chain with ease. Right from the manufacturer to the end consumer instant product authentication determines the product's genuineness.
4. Ensuring end-to-end visibility of inventory in your ever-growing supply chain network
3D cartons with barcodes can help to implement inventory management in your supply chain. This helps to keep a real-time record of SKU (Stock Keeping Unit) across multiple locations. The end-to-end SKU visibility helps to mitigate company spending, optimize production, and expedite delivery. Our team of software engineers develops custom software algorithms in sync with your production capabilities, warehousing facilities, and logistics.
5. Attract more customers and retain loyal ones in a highly competitive market
You can also implement a variety of loyalty schemes to retain and engage your current customers and create new ones in the process. This gives you an edge over your competitor and helps you redefine budget allocation for robust market growth. Customers stay with companies that run multiple loyalty consumer programs throughout the year. We have provided digital tailor-made loyalty management solutions to numerous companies reducing their paperwork and errors.
So, what's your call now? Are you ready to change your normal folding carton with a 3D carton? We will guide you in the process and help you with a custom solution as per your requirements. Our packaging experts will help you at each step and help transform your packaging for the best results. Talk to our experts on 9905-124-124 or mail us at marcom@holostik.com