Compromising product packaging can cost you a lot of money. We, therefore, suggest you consider your product packaging seriously.
If you are a manufacturer of bottled products, then you must use robust packaging. And your packaging must be secure and smart. It should be such that the contents of your bottled product remain safe and consumable until they reach your end consumer.
Poorly packaged bottled products are prone to spillage, counterfeiting, and tampering. When damaged products reach your end consumers, it spoils your brand's reputation ultimately impacting your sales.  
Amongst all the packaging solutions for bottled products, induction seal wads are the most commonly used. Wads can be beneficial in multiple ways and using the right wads can boost your business growth. Let's dive deeper to know all about these amazing packaging solutions used generally in FMCG, Pharma, Agro, and Automotive industries.
Holostik provides different variants of induction sealing wads available as per the requirement of your product and its contents
What are holographic seal wads and its uses?
Holographic Induction seals, wads, or liners are used to seal and close the opening/lip/orifice of the bottle. This protects the product's contents from moisture, contaminants, and bacteria. Holographic induction wads prevent counterfeiting, create genuine brand identity, ensure digital product authentication, and help manage inventory.
What holographic induction seal wads are made of?
Induction wads are made with paper board, wax, holographic film, aluminum, and poly.
During the seal application process, bottle caps are lined with the induction seal and passed under an electric current. The foil heats up and melts the wax after which the sealing material is bonded permanently to the opening of the container while the carrier material/ paper board remains inside the cap.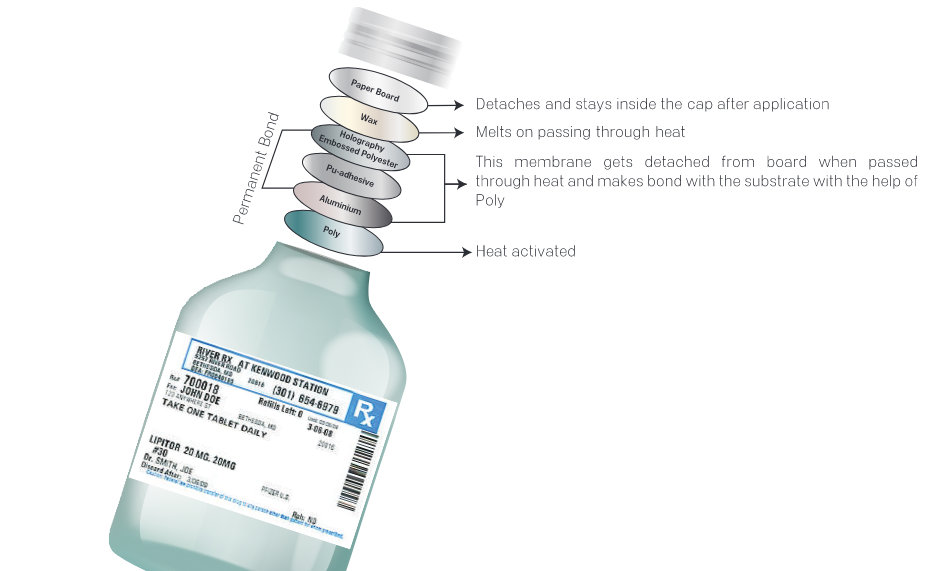 Why prefer holographic wads over generic wads
General wads lack security features. They can be easily copied. This risks the security of your products. With the easy availability of packaging machines, forgers can easily copy bottles, its contents, and even the packaging. But, with the addition of holography, it becomes nearly impossible to replicate packaging wads. Moreover, the use of nano optical hologram images completely deters forgers from copying your packaging. Holostik's holographic wads can include logos, brands, and sophisticated designs that accentuate your visual appeal.
Integration of holographic wads with digital solutions
Our holographic wads can be printed with QR codes. This amplifies the functionality of these physical packaging solutions. Smart wads ensure digital authentication, track and trace, loyalty management, warranty management, and much more. It helps the manufacturer to keep a track of product inventory, raw material utilization, and location. Equipped with real-time data insights, manufacturers can make informed decisions, increase throughput, and save money.  
The use of high-quality raw materials enhances the efficiency of induction wads in harsh environments
Strong reasons to choose Holostik holographic induction wads
–Leak prevention seal & pilferage protection keeps the product contents intact resulting in high product quality
-Incorporation of holographic features to prevent duplication & subsequently boost sales
-Tamper evident features to prevent adulteration & tampering ensures a high-quality end product
–Integration of QR code results in managing digital product authentication & efficient supply chain
Variants: Holographic Wads, Printing on Chromo Paper, Wads with Printing on Aluminium on Top, & Registered Holographic Wads
To know more about holographic induction sealing wads and other packaging solutions call us on 9905-124-124 or mail us at marcom@holostik.com